Quality and Innovation
We are proud to be considered a benchmark in the area of health. We ensure that we provide quality, innovative services that help to spread our good name, and are based on scientific and clinical evidence. See our full list of specialties below.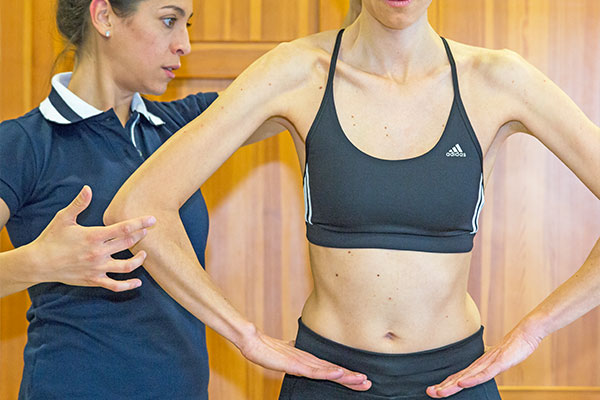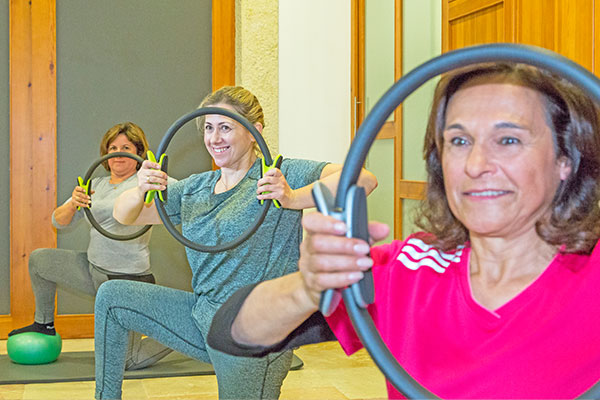 Advanced Physiotherapy
Our physiotherapy sessions are designed based on scientific and clinical evidence, to provide you with fast, lasting results. We therefore perform an hour-long personalised, rigorous, comprehensive evaluation on each patient, so that we can carefully evaluate them and discover the root of the problem that led them to us. It is only once we have conducted this evaluation that we select the most appropriate techniques to use on each individual.
Vestibular Rehabilitation
Our balance is what helps us maintain good posture and the alignment of our bodies. This means that any problems with your balance, such as dizziness, vertigo and / or loss of balance, often lead to anxiety, reduced functional capacity and an increased risk of falls.
Vestibular rehabilitation is often used to treat Meniere's disease, Labyrinthitis, vertigo, dizziness, nausea and loss of balance.
Oncology Rehabilitation
Manual lymphatic drainage:  A massage technique performed through smooth, rhythmic movements in order to relax the body and help tissues to regenerate. The aim of the massage is to open the lymphatic capillaries to allow macromolecules and cellular debris responsible for the accumulation of water though. By activating the lymph nodes, we help fight infections and encourage immune defences to act preventatively as well as defensively.
Recovering mobility and re-starting physical activity.
Physical Therapy at Home
Our Physiotherapy services can come to you, wherever you are within a radius of 12km from our centre.
We'll give you 50 minutes of a treatment tailored to your needs. Our physiotherapist will use the right materials to help you overcome whatever's holding you back.
Clinical psychology
Clinical psychology is a lot more than just treating mental illness using psychotherapy. People seek out a clinical psychologist because they want to understand themselves better, understand the meaning of their conflicts, of their emotional symptoms, desires and choices. Whether for small or large changes in our lives, each and every one of us can and should seek the help of a clinical psychologist to help us adapt to a new phase. They know exactly what to do to help us move forwards, with complete emotional stability.
"Psychologists are here to help people find ways to solve the problems that they can't face on their own!" – (Dr Sandra Pereira)
Nutrition
Our Nutritionist prescribes customised therapeutic diet plans based on diagnoses, clinical data, anthropometric records and the health of the patient. Nutrition plays an important role in preventing illnesses – good knowledge about food can contribute to rapid physical and even emotional recovery.
Mums and Babies
Prenatal Clinical Pilates
The main aim of Prenatal Clinical Pilates is to appreciate the benefits of exercise and avoid any possible risks. Expecting mums can keep up with the 45-minute Pilates sessions for the duration of their pregnancy, as long as their doctor clears them to do so.
In addition to the benefits of controlling weight, hypertension and gestational diabetes, Prenatal Pilates helps to build a brighter future for mums and their babies. It also eases labour and helps with quick postpartum recovery.
Manual lymphatic drainage
Postnatal Clinical Pilates
Hypopressive Abdominal Gymnastics
During labour, a woman's pelvic floor muscle, which plays an important role in childbirth, is stretched, resulting in changes in tone, flexibility and sensitivity. All these reasons are why it is extremely important that women strengthen and fully restore the function of their pelvic floor.
This form of gymnastics is a strong tool for postpartum urogynecological rehabilitation, and it is advised that women do these exercises for between 6 and 8 weeks after giving birth, with medical guidance, in order to resume sexual activity.
Hypopressive Abdominal Gymnastics is especially advised to aid in the rehabilitation / prevention of urinary incontinence, vaginal and visceral prolapses, sexual dysfunctions, reduction of the abdominal perimeter, postural correction, prevention of back pain and improving the functioning of intestines.
Paediatric Respiratory Physiotherapy
Clinical psychology
Psychological check-ups during pregnancy, postpartum and into parenting aims to guide pregnant women and / or couples psychologically, as they seek to readjust emotionally, as well as to build up their self-esteem and self-image. Clinical Psychology also consists of a therapeutic intervention that aims to prevent / intervene in postpartum depression and / or manage fear and anxiety. Giving birth can be one of the best moments of a woman's life, and although life with a new baby is exciting and rewarding, sometimes it can also be difficult and stressful, because of the multitude of physical and emotional changes women go through in pregnancy and after delivery.
Nutrition
Advice from a nutritionist during pregnancy and postpartum helps women not only manage their weight, but also to provide the optimal nutrients for each stage of their baby's development. Nutritional advice has also been linked to faster physical recovery, as well as a recovery of their self-image and psychological well-being.
Clinical Pilates
Clinical Pilates is a combination of several of the exercises developed by Joseph Pilates, which have then been adapted by physiotherapists so that people who have never done any physical activity before can perform them. Clinical Pilates can also help to rehabilitate people with spinal problems, to improve posture and to help with various health problems that can be improved though the strengthening of muscles and joints.
Classes are held for groups (with a maximum of 8 people) or privately.
This form of Pilates consists mostly of Mat Work using various accessories such as exercise Balls, Magic Circles, Rollers and Elastics, which help to make the exercises more challenging, therefore keeping participants motivated.
Abdominal Hipopressive Gymnastics
HAG is much more than just a healthy way to tone your abs. It is a form of postural re-education, a method that optimises performance and re-educates the pelvic floor.

HAG decreases abdominal and thoracic pressure, which has a huge effect on reducing the circumference of our abdomen, reduces lower back pain, increases sexual functioning and sports performance, improves and prevents many pelvic floor dysfunctions that lead to urinary incontinence, is an excellent postpartum exercise, improves posture and balance and helps to treat and prevent internal organs from prolapsing.
Hatha Yoga
Hatha Yoga can be adapted to any type of person, of any age. This type of yoga incorporates postures (asanas), breathing exercises and meditation / concentration / relaxation. It has proven physiological effects on improving sleep quality, lowering stress levels and increasing longevity.
Outsourcing
Did you know that the costs of promoting health decrease the better the health and well-being of your employees?
By investing in programs that promote health, or even rehabilitation, within your company, you can provide support for the company's medical service, and in turn reduce healthcare expenses through reducing occupational illnesses.
Other short-term positive results you'll see are:
A decrease in the number of accidents in the workplace and absences due to psychological problems;
A reduction in absences in general;
Increased employee efficiency;
A decrease in staff turnover and therefore a rise in company profits;
An improvement in the company's image from the perspective of both employees and society.
Susana Gil Physiotherapy can help your company.
Workplace exercise: these short exercise sessions can take place in any workplace, at any time, as they are not physically tiring and participants can wear their normal work clothes. Sessions consist of stretching the muscles most commonly used at work, and their main objective is to prevent occupational illnesses and accidents (RSI- Repetitive Strain Injuries and WROD- Work-related Osteomuscular Disorders);
Clinical Pilates;
Active Collective Stretching: re-educating groups of participants on good posture in order to prevent injuries caused by postural stress;
Postural evaluation and an evaluation of the actions performed in the workplace;
A suitability text and report on the ergonomic nature of the workplace;
One-to-one sessions on Global Postural Re-education;
Clinical psychology;
Clinical Nutrition.